Guitar World
I'm currently the Executive Editor of Guitar World magazine. In this role, I develop the top-level editorial strategy for web, print (13 issues/year, 100,000 circulation) and social. I also produce and write cover stories and features for print and web.
My duties at Guitar World also include that of Managing Editor of Guitar World Buyer's Guide, and Editor of GuitarWorld.com.
As online editor, I manage the creation of Guitar World's online editorial archives, and work to create a seamless user experience between print and online properties. I worked with the web development team to redesign and refocus the site, resulting in an 150% increase in monthly page views. I also write and edit online features, conduct video interviews with music celebrities, create cross-branded giveaways and contests, and oversee Guitar World's social media presence, including Facebook, Twitter and Instagram.
Slayer - Never Say Die
It's hard to imagine a world without Slayer. But just two years ago that looked like a real possibility when the band was suddenly ripped in half. [Read more]
Black Sabbath - 45th Anniversary
It's rare that a band emerges and, with one inspired release, simultaneously launches and perfects a genre of music. Such is the singular case of Black Sabbath. [Read more]
Metallica - Making of 'Ride the Lightning'
We've been invited to Metallica's HQ to talk with Kirk Hammett about the 30th anniversary of their classic sophomore album, Ride the Lightning. [Read more]
Roger Waters - Behind 'The Wall'
"Benvenuto, bambini!" Roger Waters exclaims through his microphone to the line of children excitedly walking toward the stage inside Rome's massive Stadio Olimpico. On this blistering afternoon in late July, the former Pink Floyd leader and his band are in the middle of the soundcheck for tonight's show, at which they'll perform Floyd's classic 1979 double-album, The Wall, for 50,000 Italian fans. [Read more]
Slayer - Grave New World
"Have you ever seen someone and the thought comes in your head that you just want to... kill 'em?" Coming from most any other human, this line of questioning might be surprising. But when the human in question is Slayer's Jeff Hanneman, it's par for the course. "But why would you do it? Why would I do it?" He continues, cracking open a second Corona. "I think about that more than I should." [Read more]
Metallica / Tool Roundtable - Kirk Hammett & Adam Jones
The both started as cult heroes. Metallica's Kirk Hammett was a man of the people, and Tool's Adam Jones was a man of mystery. Join them as they compare notes on how they transformed their heavy metal into a worldwide religion... [Read more]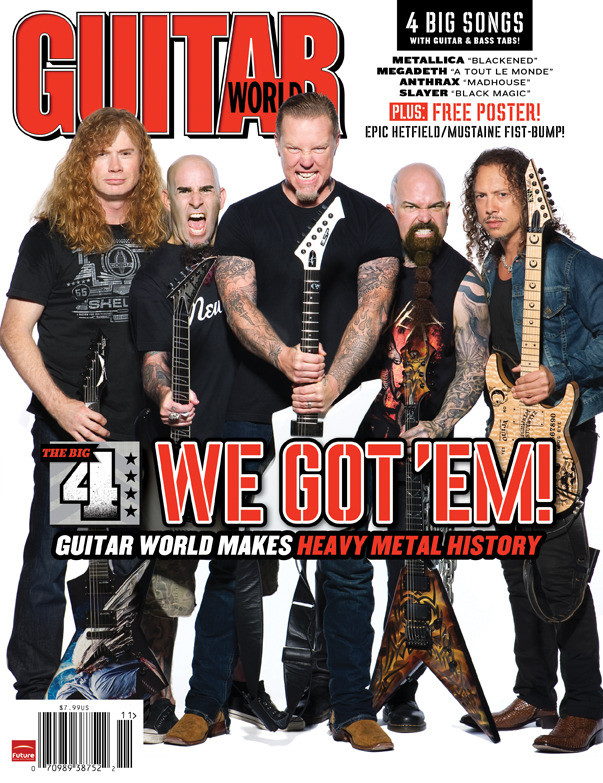 Thrash Metal Big Four Cover Story